A dream come true: Casio DW-290

A.K.A. the Mission Impossible watch
Date: 2021-08-31
A long dream of mine is to wear the Casio DW-290 watch, the one that Tom Cruise wore in his first Mission Impossible movie from 1996. I still love the movie even after 25 years, and I saw it in cinema back then! In fact I am sure it was my second "not for children" movie, after Jurassic Park. It is one of a classic spy movies now.
Unfortunately for some reason my country's watch shops aren't really interested in this piece, and if it shows up it's really expensive compare to it's price from Amazon. I was lucky that I don't have to pay for import fees and it has a good price, only under 40 USD.
What can I say, I am very lucky.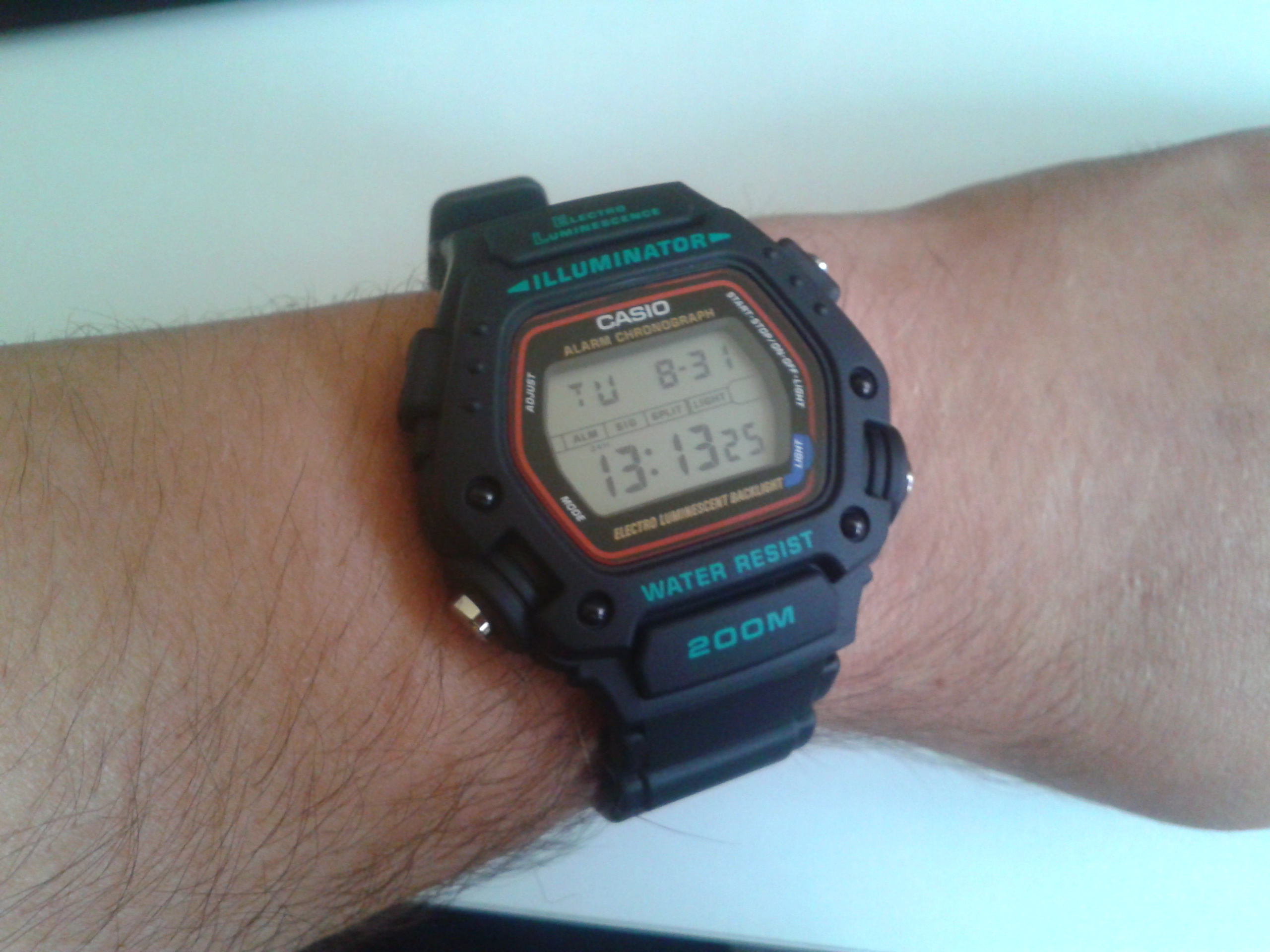 (yes, this is my crappy picture, please direct the blame to my 5MP dumbphone)
What is the watch like?
I like this watch not just sentimental reason of seeing the movie when I was a kid, but it has character. It's not square shape, or round, or even a standard hexagonal shape. It has the usual Casio text on it, all over the place, boosting that retro charm, as a digital watch should from the 1990s.
The watch is fairly big, but I guess any of the non-square G-Shocks are bigger. It's vertically symetrical, except the adjust button on the top left is hidden, probably to not to push it by accident. While it has a robust size, the watch is not a G-Shock, as it doesn't have the usual resistance features that Gs have.
Feature wise, it shows you the time of course, an alarm, a countdown timer, a stopwatch and a really good 200 m water resistant, which is good for anything you do in water. One notable feature is that when you are using the countdown and stopwatch you can still see the day and time.
I also like about the watch display, the nice size of digits both for the clock and the date part. It's nicely readable, from all angles, and the digits are not big. The backlight is also nice, light blue color, similar to the one the Casio A168 has.
People say that the only bad part of the watch is the strap, I will see if it can take the beating, because I am not going to take this legend off of my wrist for a while. After an hour the watch is comfortable to wear though.
If you want to see a fancier review of the Casio DW-290, watch the Urban Gentry review. I highly recommend his channel, because he does have a "few" fancy and expensive watches, but he is also fan of Casio and its history.